The Step-by-Step Guide to Decorating Your Living Room From Scratch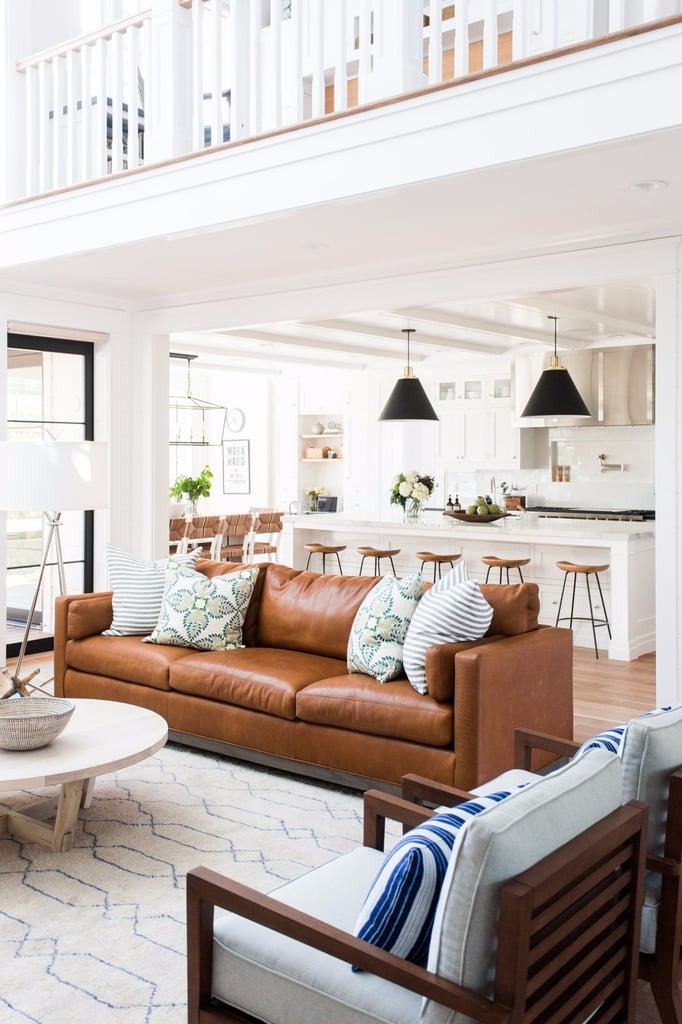 Image Source: Studio McGee
Congrats! You finally snagged that dream apartment downtown or your first home in that impossibly cute neighborhood. You have a lot to celebrate, but once the fun begins to die down, you start to slowly come to terms with one significant fact: now you have to decorate this brand-new space! And while some of you may delight in this idea, most of you will probably become slightly unnerved at the thought of beginning an entire room design from scratch. So to save yourself those anxious and overwhelming vibes, we decided to make it easy for you by reaching out to Kara Cox from Kara Cox Interiors for some much-needed interior advice! Read on as we share her key insights on how to tackle a home design from start to finish, starting with one of your most-used spaces: your living room!
Create a Solid Floor Plan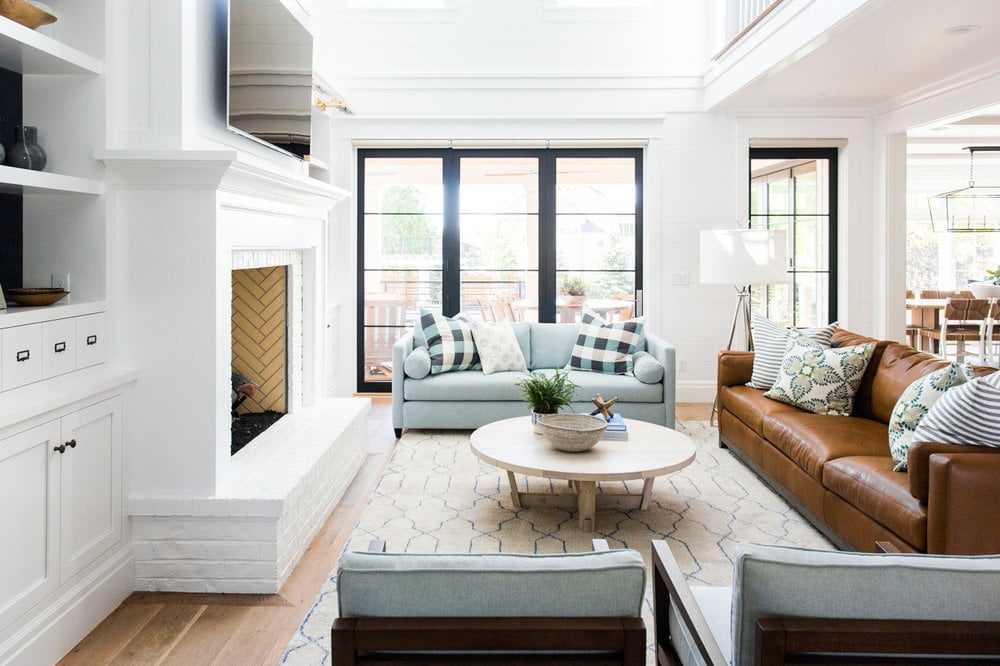 Image Source: Studio McGee
Plain and simple, you won't get far in your design endeavors without first laying out a solid floor plan. Not only will this help to focus all of your creative energy, but it will also identify what kind of furniture you will need to purchase from a logical standpoint. Kara says, "Measure your overall space and create a scaled floor plan for what size pieces will fit in your room. A great plan for a living room includes a sofa, two chairs, two side tables, and a coffee table. If you have more space, you can add a love seat or [a] second pair of chairs."
Each design plan will obviously vary from one room to the next, but regardless of the size of your space, Kara shares an awesome pro tip for guaranteeing you always make the best selection. "A rule of thumb is to have the same number of seats in your living room for guests as you have at your dining room table. [That way], a guest always has a seat to lounge in after a great dinner party."
Invest in Quality Upholstery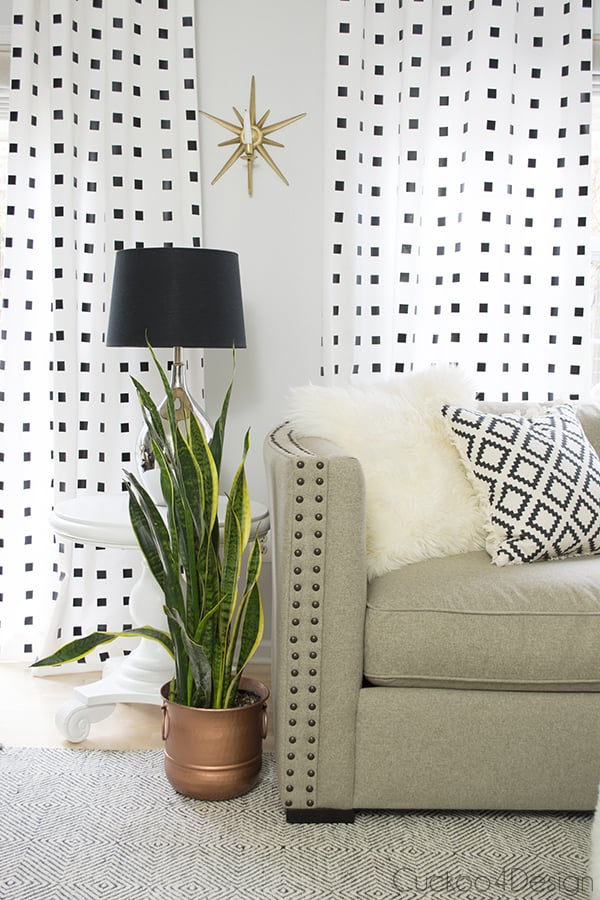 Image Source: Cuckoo 4 Design
If you have ever wondered where to splurge and where to save when it comes to living room decor, here is your answer! Kara advises, "When you're starting from scratch on furnishing a living room, the best place to invest is in good, quality upholstery. Buy the best you can afford in classic shapes and upgrade on your cushioning and quality fabric so it will last for years to come." Kara also notes that if you buy for quality the first time around, you won't have to worry about replacing these foundational pieces a few years down the road after some wear and tear.
And as far as color and print for these bigger-ticket items? Kara says, "Keep those foundation pieces neutral and simple and you can easily layer in color and pattern in smaller doses."
Embellish With the Necessities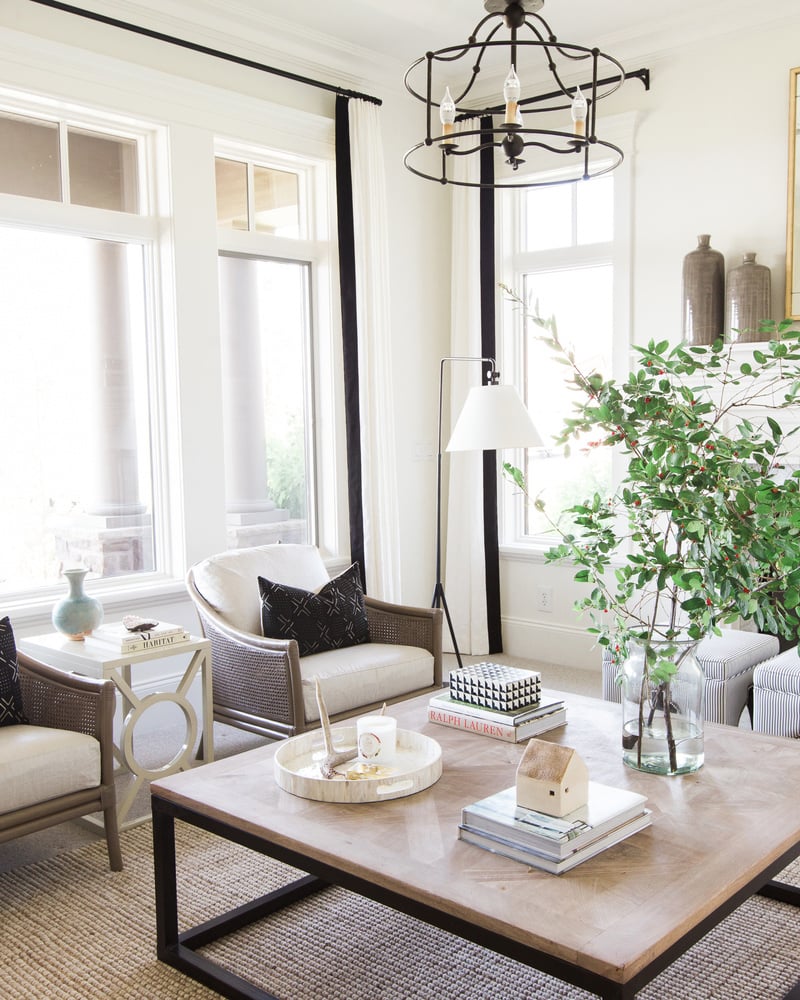 Image Source: Studio McGee
Once you lock in your favourite larger foundational pieces, it is time to embellish your design with smaller, but equally important, items. Pieces like side tables, a fantastic coffee table, and lighting all fall into this category. When making your picks, Kara suggests to "make sure your side tables are large enough for substantial table lamps so you have enough light in the room, in case there is not any overhead lighting." However, if you are able to add in some overhead lighting, Kara recommends it since "it's great to have a mix of ambient lighting and decorative lighting."
And if you are worried about the smaller necessity pieces being too matchy-matchy, Kara also has the following advice: "A mix of materials in a room is key to making it visually interesting. If you have metal side tables, try a wood coffee table or vice versa."
Find the Perfect Area Rug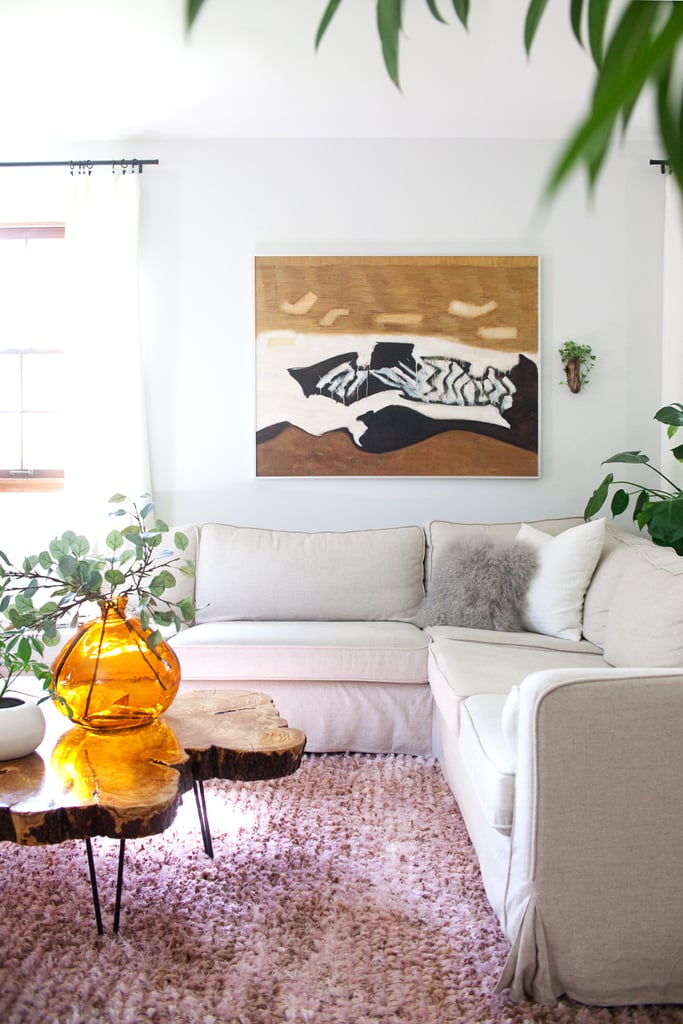 Image Source: A Beautiful Mess
Now it is time to cosy up your living room a bit with none other than a gorgeous area rug! Kara cautions to always make sure your final selection is actually large enough for all of your newly purchased furniture to fit on. She says, "This is one of the biggest mistakes homeowners make if they are not working with a design professional. A larger rug helps fill the floor area and will make the room appear larger. Ideally, a rug will cover all but about 12 to 18 inches of the floor area in a room." So always be sure to double check (or triple check!) those dimensions before swiping your card.
Soften With Window Treatments
Image Source: Kristi Murphy
After adding some texture and warmness to your room with the perfect area rug, you can then set your sights to the windows. Kara shares that "window treatments help add a soft layer to a room. If you can't have custom drapery made (which is ideal for having the correct length, width, and function), use simple neutral linen panels and simple metal hardware that matches the other finishes in your home." And while this may seem like a smaller piece of the puzzle, Kara ensures that adding in this layer of design will "create a finished feel to [the] room."
Personalize With Your Favourite Art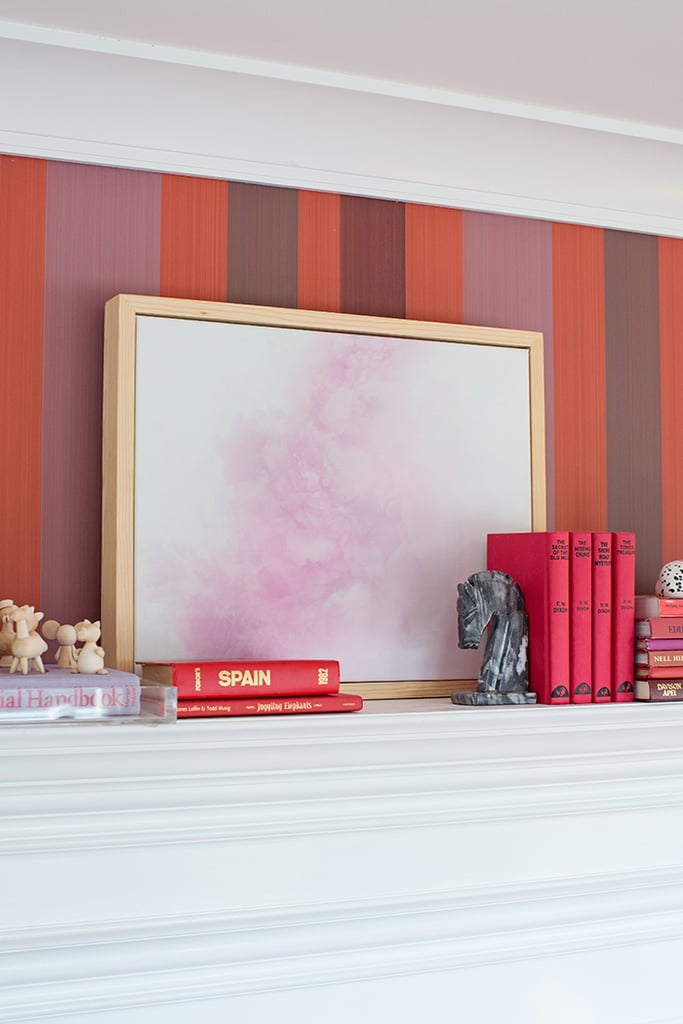 Image Source: The Makerista
You are almost there! The furniture is set, the coffee table is ready, and even your windows now have a bit of flair. Now it's time for what some people call the best part of home design: artwork! "Every room should have original artwork on the walls. This doesn't have to be from a coveted artist, but you can pick up small pieces from local artists at local galleries, antique stores, or art fairs."
Even taking it a step further, Kara also recommends to use any upcoming vacations as a means to find unique pieces that speak to your design aesthetic. She says, "Look for art when you travel and purchase a piece as a souvenir. Art is a great place to add color in a room and pull from for other inspiration."
Add Interest With Finishing Touches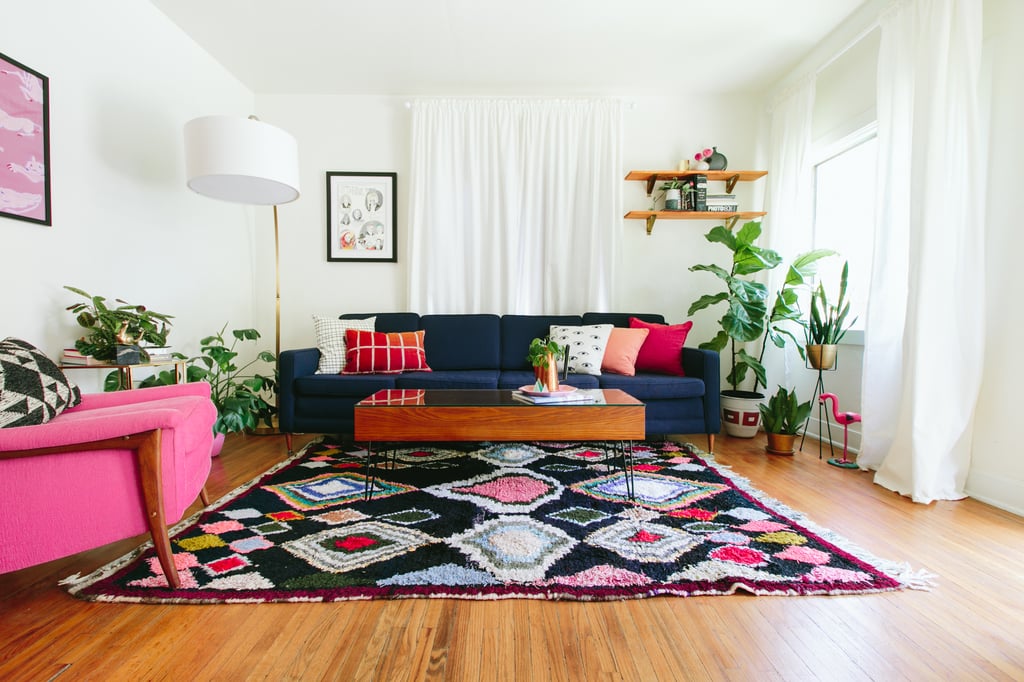 Image Source: A Beautiful Mess
And lastly, it is now time to add interest with those beloved finishing touches. If you are having trouble getting started on these last little details, Kara suggests to look to your artwork for inspiration. For pillows, Kara loves the combination of a solid print alongside a more dynamic, patterned print. When it comes to spicing up the coffee table, try to "layer in accessories with some collected coffee table books in two equal stacks. Top it off with an interesting object!" And don't forget about the side tables! "Side tables can be accented with an interesting vase to drop cut flowers in when company is arriving or a small frame for a family photo."
Another great living-room-specific tip is to creatively disguise those remote controls and other electronics! Kara says, "A great accent piece is a small box to hide remotes or controls for electronics in the room. [That way], you serve dual purpose in keeping those out of sight and having an interesting object on your table."