Nail art is something that has captivated women since centuries. But it is very recent that painting nails has become creative with embellishments and designs that have taken it to the next level.
We bring you ten nail art designs that are exceptionally easy to do and look tantalizing on your hands.
Half Moon Nail Art
This nail art looks appealing and is very simple to do. Use a white base coat and apply a nail color (or two) of your choice, leaving a little portion at the base for the desired effect.
Plaid Nail Art
Plaids are not limited to your clothes alone. Just try on these plaid designs and you will have an envious nail art that looks complex but is devilishly easy.
Gradient Nail Art
Gradient nail art is very popular right now for its simple technique and bold impact. It is most commonly achieved using a sponge but can be done otherwise as wellUse complementary colors for a mesmerizing effect.
Polka Dot Nail Art
Aren't polka dots the cutest? It's very easy to achieve this nail art design as well. Just use the base of a toothpick to draw dots on your base coat. And voila! You are done.
Neon Bricks Nail Art
The pop of bright neon colors and the brickwork design is what makes it truly fantastic. It is a lot like painting but on a much smaller canvas i.e. the nail.
Bridal Nail Art
Try this nail art on your wedding day to complement your bridal gown and you will be decked from head to toe.
Butterfly Nail Art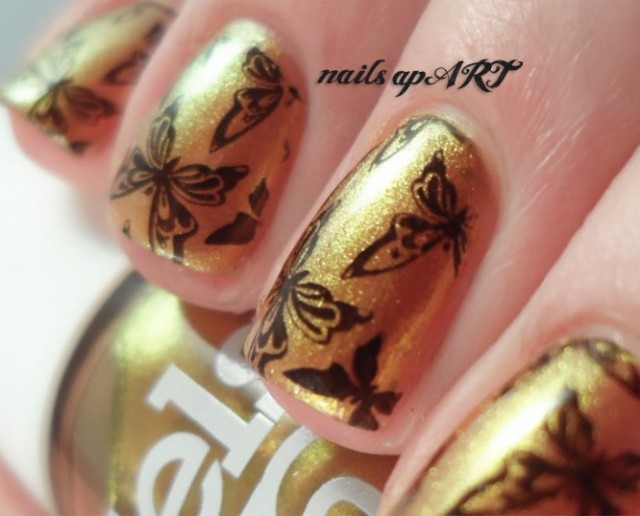 Butterflies are feminine and it shows your delicate side. So why not incorporate it into your nail art as well. There are a number of ways to flaunt this delicate design and look resplendent at the same time.
Leopard Print Nail Art
For girls who want an edgy nail art, this might be the one for you. The best thing about nail art is that you can try different designs on each nail and yet make it work as a unit.
Jeweled Nail Art
If you want to take your nail art to the next level, then this is the way to go. Rhinestones are available at any market and you can use nail adhesives to glue them to your base coat. There are literally a million ways and combinations that you can try.
Christmas Nail Art
Christmas cheer can be depicted through nail art as well. The shimmering red can be used as a base coat and you can use a thin nail art brush to draw Christmas related artwork on your nails.