Anushka Sharma appeared on the silver screen for the first time in 2008 and her lively and self-assured personality instantly won hearts all over. Close to ten years later, she is still focused and enjoys her work more than anything else. Check out some of her best magazine covers that prove her experience as a model didn't go in vain.
Anushka Sharma is channeling old Hollywood glam with her signature finger waves and a demure pose. She is definitely a starlet in her own right. Her elegance matched with her humility makes her the one to watch out for in the future.
The bad-ass chic Anushka looks all shades of bold and endearing in the Vogue cover as seen above. She is a feminist through and through which is reflected in her acting roles.
Anushka knows how to dabble from classy to cool to smoldering hot all in one pic. As seen in the Femina cover (above) her svelte figure and baring cleavage in this formal pantsuit make her a head-turner.
She is the leading lady of Bollywood, with a successful 2016, starring in films like Sultan and Ae Dil Hai Mushkil under her belt. She is more than just a beautiful face, mind you, she is integrity and diligence personified.
Bawse Anushka Sharma knows very well what she wants and how to get it. She is a confident woman of today who doesn't shy away from hard work and always brings her A-game.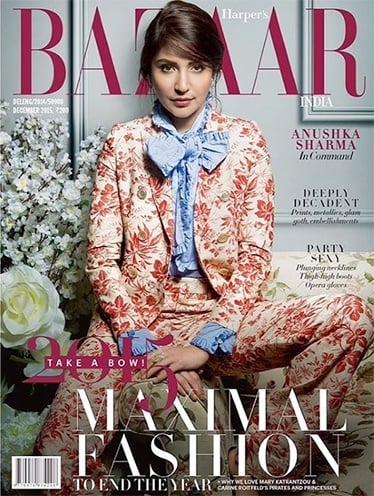 The floral pantsuit gives her a quirky look that is fashionable, to say the least. The frilly shirt underneath and the bow is a throwback to yesteryears. Still, she makes it her own and exudes confidence and warmth to stay in style.
Anushka manages to look strikingly beautiful on the cover of Femina magazine. With minimal makeup, her piercing eyes make a connection with the viewer. She is indeed one of India's most beautiful women.