Sunsets are indeed a beautiful sight to behold! However, the kind of backdrop for the sunset can create an even more mesmerizing effect. Here are some of the best places in India to catch the picture-perfect moment when the setting sun sends streaks of all possible colors over the sky and waves goodbye for another day.
Dal Lake in Srinagar
The serenity of the Dal Lake is spectacular in itself and with the beauty of the sun setting over the horizon, the view becomes incomparable. When viewed from the many houseboats floating around, you are sure to be left speechless.
Sand Dunes of Jaisalmer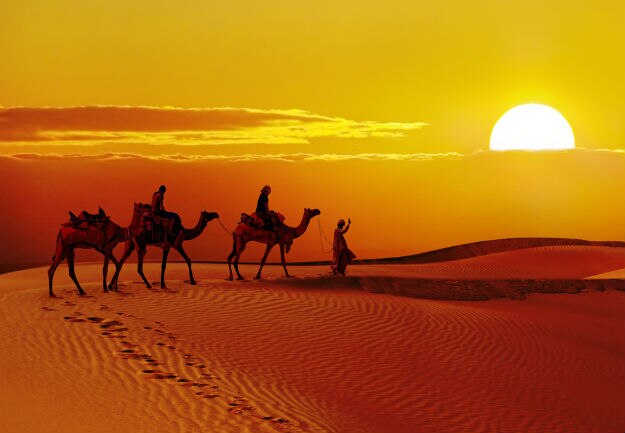 The scores of sand around you and nothing standing out for miles on end, forms the perfect backdrop for a sunset. The barren lands of Jaisalmer come to life for a while when they are gilded with the sun's light beckoning dusk to take over.
Varkala Beach in Kerala
Varkala beach is the only place in Kerala where you will find the hills touching the Arabian Sea. Any beach is the best place to witness a sunset but the spectacular reflection of the dizzying colors on the water surface in Varkala Beach is one not to be missed.
Leh Ladakh
Leh Ladakh is a paradise on earth and picturesque to say the least. Add to that romantic setting a mesmerizing sunset and you will have yourself some of the best memories of your life.
Taj Mahal in Agra
The famous monument looks even more irresistible when the sun sets on the Taj. The pristine white monument and the surrounding landscape at just the perfect moment when the sun is below the horizon, will be etched on your mind forever.