1. Aamir Khan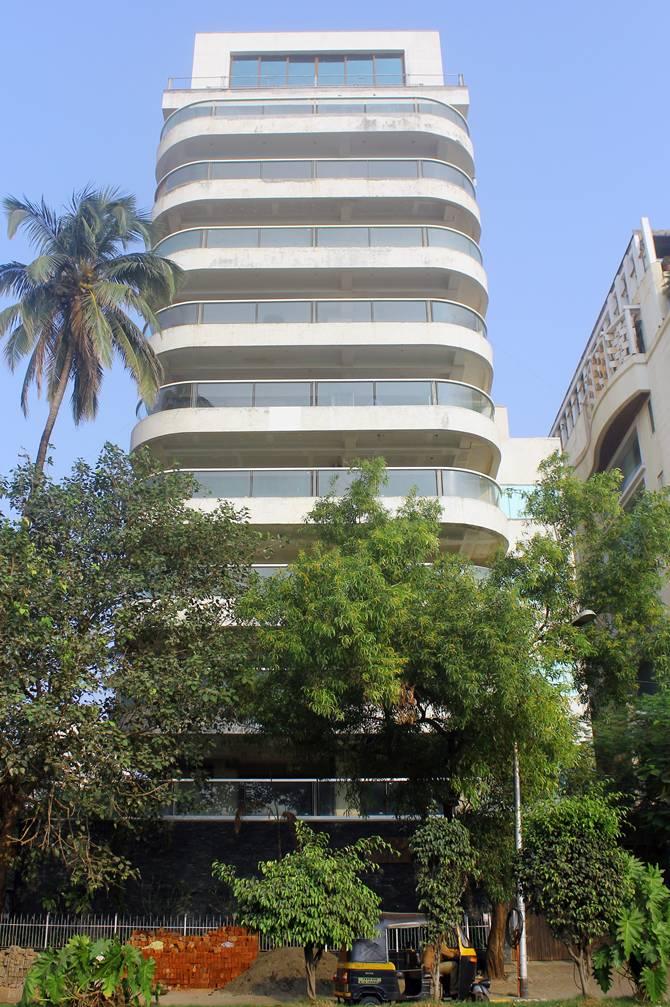 The actor's home is no less perfect than the perfectionist himself. He stays with wife Kiran and son Azad in the 5,000 sq feet apartment in Bella Vista Apartments in Bandra — the decor of which features a mix of modern Asian and European elements.
He also has a 100-year-old bungalow in Panchgani that he bought from director Homi Adjania.
2. Rajesh Khanna
This beautiful bungalow, situated on Mumbai's Carter road has been a pilgrimage for Rajesh Khanna's fans for decades. Of late, however, it has been shrouded in controversy as Anita Advani — Khanna's live-in partner — claimed rights to the bungalow, which has an estimated worth of over INR 100 crore.
The house originally belonged to Bollywood legend Rajender Kumar who bought it for just Rs 60,000 as it was deemed to be haunted then.
After Khanna's death in 2012, his estranged wife Dimple Kapadia along with her daughters sold the house for about Rs 90 crore to a business. As of now, the bungalow is under construction.
3. Akshay Kumar
The Khiladi's beach-facing villa has quite a history to it. Rumour has it that a young Akshay Kumar was shooed away from the property about two decades ago when he was getting his portfolio shot with the bungalow as a backdrop.
After he found success, Kumar bought the same bungalow and renovated it to meet his family's requirements. He lives there with his wife, kids, mother and sister.
4. Anil Kapoor
The acclaimed actor's Juhu bungalow is said to be the perfect mix of opulence and comfort. He lives there with his wife Sunita, an interior designer, as well as his daughters Sonam and Rhea, and son Harshvardhan.
The Kapoors' bungalow also boasts of impressive lawns and a fully-equipped gym.
5. Farhan Akhtar
The actor-director's sprawling bungalow, Vipassana, is spread across 10,000 sq feet in Bandra. Akhtar bought the property, which is close to his mother Honey Irani's residence, in 2009.
6. Salman Khan
The eternal bachelor is actually quite the family man. He has been living in Galaxy Apartments since the last four decades with his extended family.
Salman has been quoted as saying that though he is deeply attached to the one room set he occupies in the apartment, he finds it difficult to accommodate his ever-increasing baggage of clothes and accessories. So, he plans to move out with the family to a bigger space.
7. Hema Malini
The dream girl's bungalow in Juhu is a lovely green patch in the heart of city, and has been designed by the creative honchos of ZZ Architects. She also owns a beautiful house in Goregaon.
8. Ranbir Kapoor
The heart-throb owns multiple homes in Mumbai, though he is known to mostly reside in his ancestral home — Krishna Raj — with parents Rishi Kapoor and Neetu Singh.
9. Shah Rukh Khan
King Khan's home Mannat is a paradise of luxury. SRK bought the heritage site from a trust and renovated it to include every modern amenity you can imagine.
It has a huge library, a gym, a swimming pool, a mini theatre, and a basement parking that can house several cars. Additionally, it also has a bar and a sports room, besides lounges to entertain guests.
10. Amitabh Bachchan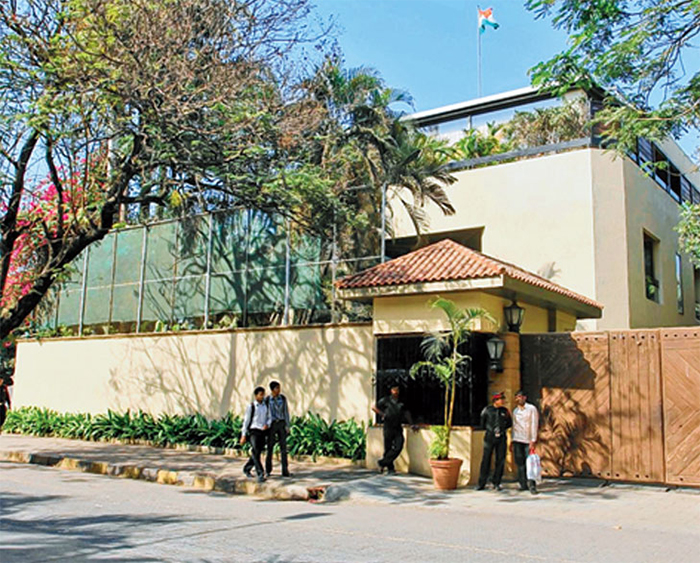 The Bachchans' original sprawling mansion Prateeksha is known for its lush green lawns. "Not much changes about this home in all these years, though everything has changed outside it (sic)," says Big B about Prateeksha in his blog.
Big B and his family — including son Abhishek and daughter-in-law Aishwarya — live in their other home, Jalsa, which is also located in Juhu.
11. Rekha
Her Bandra home is protected by massive bamboo walls that make it almost impossible for a bystander to catch a glimpse of what's happening inside.
Rekha's balcony overlooks the lawns of Farhan Akhtar's childhood home, and the actor-director claims that the actress used to click the pictures of his playmates from the spot to send them across later.
12. Saif Ali Khan
Chotte Nawab resides with wife Kareena Kapoor in Fortune Heights in Bandra. He also owns Ibrahim Kothi (Pataudi Palace in Gujarat) and several other properties in Bhopal.
13. Sanjay Dutt
Sanjay and Manyata Dutt stay in the ground floor apartment of Imperial Heights in Pali Hills.
14. Sonakshi Sinha

Daddy's little girl, Sonakshi resides with her parents and brothers in their bungalow Ramayan in Juhu.
15. Arjun Kapoor

There is nothing 'bachelor like' about Arjun Kapoor's bachelor pad. It's a tastefully done flat replete with all modern amenities, including paintings collected by his (late) mother Mona Kapoor.