Twitterati is celebrating the ouster of the self-proclaimed film critic KRK, infamous for his tasteless remarks and talent for raking up senseless controversies. Now he has threatened to commit suicide if Twitter doesn't reinstate his account
Kamaal Rashid Khan or as he popularly known, KRK has done it again. Although his official Twitter account still remains suspended, he is using KRK Box-office's handle (The account through which he tweets film reviews and box-office collections) to send out his message. And this time he has crossed all his limits.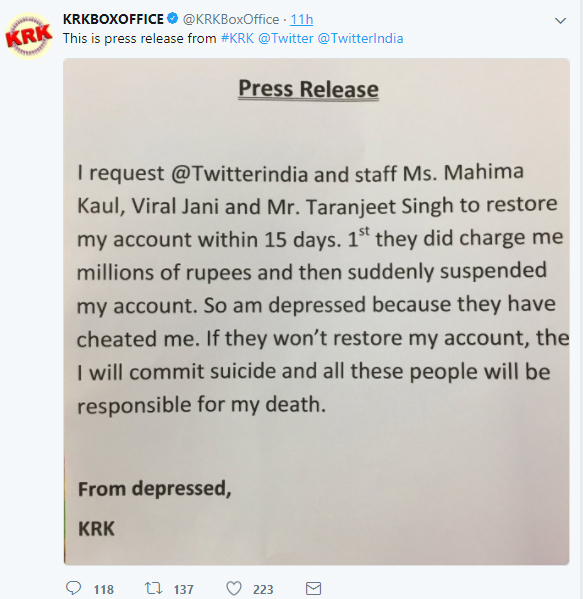 KRK Threatens To Commit Suicide
Soon enough people started trolling his and making fun of him. Embarrassed of the same, KRK soon deleted the tweets even from KRK Box-Office account.

For those who've come in late, when you click on the link to the KRK's original account, Twitter shows an error message that reads: "The account has been suspended. Learn more about why Twitter suspends accounts, or return to your timeline.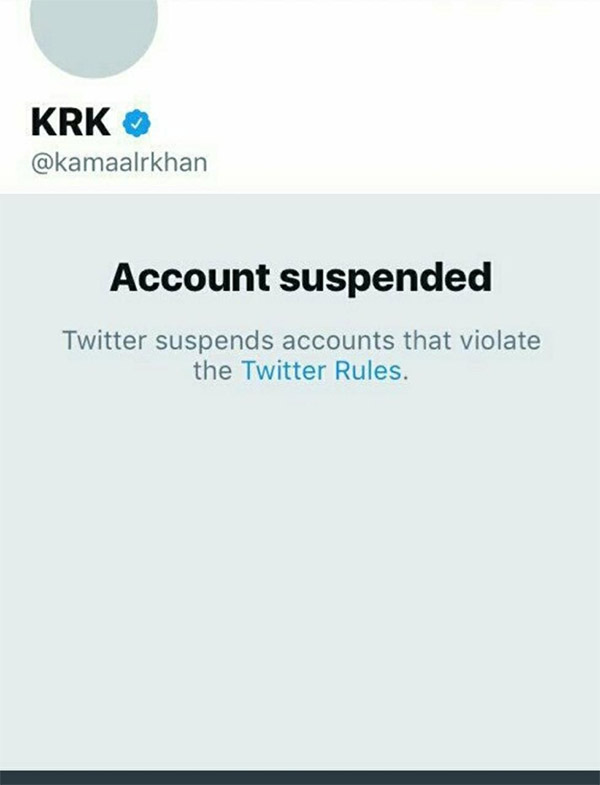 KRK's Twitter Account Gets Deleted
Crass is a modest word to describe this man who has zero respect for women. He has had no shame in passing filthy comments about Alia Bhatt, Priyanka Chopra, Bipasha Basu and other leading ladies on his Twitter handle.
Let's wait and see whether Twitter reinstates his account after this suicide threat or is there something more in store for KRK. Stay hooked onto SpotboyE.com for more updates.