Bollywood is one of the largest producers of movies on an annual basis, with a thousand movies on average made every year. Bollywood has been making films across various genres, topics, and locations, and there is no way in which they could leave behind the city of their origins in its movies. Portraying the multiple faces of the city in an almost realistic manner, Bollywood is known to re-create situations that have occurred and bring them to the masses. Here's a random selection.
1. Wake Up Sid
Released in 2009, this movie revolves around the life and struggles of two individuals trying to make a mark for themselves in the city: one is a rich brat born and bred in Mumbai who is compelled to leave his luxurious life, and the second is a level-headed girl trying to be independent. Truly defining life in Mumbai, the movie is what college students and recent graduates can very easily relate to as most of them to go through a similar struggle in life.
2. Bombay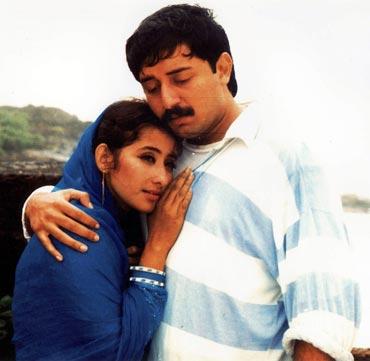 Released in 1995, Bombay is based on the real-life story of a couple who had an inter-faith marriage, the struggles they faced during the Ram Janmabhoomi-Babri Masjid riots in Mumbai, and how they survived.
3. Shor in the City
Released in 2011, Shor in the City is about three sets of individuals with sky-high ambitions that they want to achieve, by hook or by crook. Set during the Ganesh Chaturthi Festival, Shor in the City is a brilliant film with a story that takes you on a roller coaster ride, coupled with breathtaking performances that leave you overwhelmed.
 4. Chandni Bar
Released in 2001, Chandni Bar revolves around the life of a poor orphan who gets into the world of prostitution, drugs, and alcohol to survive life in Mumbai. Portraying the ruthlessness of life in the city, Chandni Bar throws light onto the lives of Bar Dancers in Mumbai.
5. Page 3
Released in 2005, Page 3 highlights the negative side of the social life of the filthy rich in Mumbai: the parties, the sexual exploitation, the short-lived marriages, the suicides, the need to be famous overnight – all this and so much more.
6. Black Friday
Released in 2004, Black Friday is a presentation of the 1993 bomb blasts that wrecked Mumbai, the aftermath of the blasts and how the lives of people associated with the case were affected.
7. Satya
Released in 1998, the story of Satya highlights the life of an innocent individual who has been wrongly convicted and how he ends up as part of the underworld in Mumbai during his journey to prove his innocence.