1. 2 States: The Story Of My Marriage
 It is Chetan Bhagat's own love story where he shares the challenges faced by two people from two different cultures/states when it comes tying the knot. It is can be considered as one of the best love story novels of all time.
2. Law of Averages: A Hilarious Love Story – Filmi Ishtyle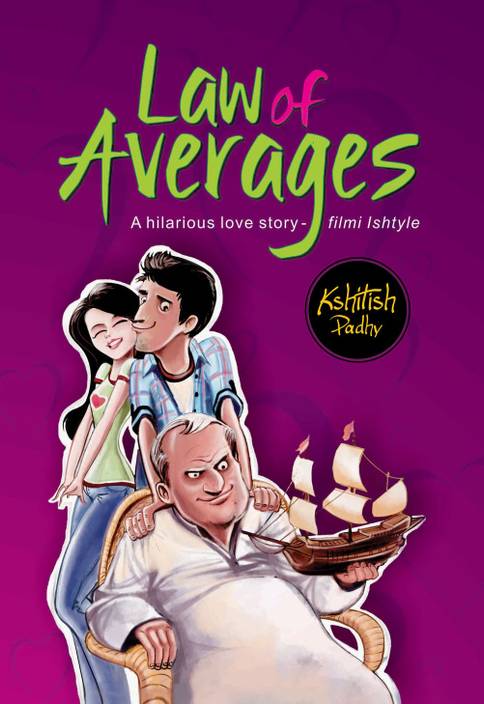 The story is about Ritwik, your average next door guy, who is trying to make a mark in the comic book industry. He meets a girl named Shubhangi one day and is determined to marry the girl. To do so, he has to first impress his future father-in-law. So does the father-in-law approve of his probable son-in-law? Well, that is, in fact, the most interesting bit of this adorable romantic novel.
3. 14th Feb: A Love Story
The Chennai-based guy soon finds his efforts fading away with no results up till one 14th February (Valentine's Day) when he meets a girl named Gayatri. What happens next makes the crux of this wonderful love story by an Indian author.
4. It Started With a Friend Request
 In this story, we meet Akash, who has a preference for girls with conservative values. One day, he happens to encounter a free-spirited girl Aleesha at a disco. They exchange their Blackberry PINs to stay in touch but then the love story is not as simple as it seems since there are some more characters that show up. The point now is whether they will play a catalyst for Akash and Aleesha's love or turn up to be detractors.
5. …But I Love You
It's love tale of Aditya, a shrewd boy, and Samishtha, a sweet girl. In spite of different mind-sets, they fall in love when they are still in college. As expected, they always end up arguing even on the simplest matters due to their contrasting ideologies. Their arguments always end with a kiss until one day, after 11 years of relationship, they realise they are close yet feel so far away. Have they reached a saturation point in their love? Or is it something else? They have to figure it out soon!
6. A Half-Baked Love Story
The narrative begins with Aarav sitting with his friends on New Year's Eve and getting drunk. In his inebriated state, he narrates his love story with Anamika to his friends, and the story then goes back to the past tense. The thing is when we return back to the present, does Aarav still have a relationship with Anamika or is he just grieving about lost love? Things are not as it seems, and you've got to read this one.
7. You Were My Crush! Till You Said You Love Me!
The novel portrays the tale of a lazy rich spoilt brat named Benoy. Benoy is the rich guy who is lazy and pretentious. One day he meets a girl who keeps pushing him away in spite of him falling in love with her for true. So will she accept him finally? Or will the poor fellow just get friendzoned?! Read the novel for more.
8. Untruly Yours
It tells the story of Natasha, a Bengali woman married to a Tamilian guy named Rakesh. The couple are NRIs, and both are equally absorbed in their professional worlds. Natasha yearns for romance, excitement and companionship but Rakesh seems too busy in his world. She makes a chance visit to India with one of her handsome colleague and bumps into an ex-flame in India. Will Natasha have a self-discovery about love or will she have to make a choice?
9. Someone Like You
It is an interesting love story about love, friendship and betrayal. Niharika is a fresh entrant to the college, and in the first few days becomes friends with a shy guy named Tanmay. Tanmay is a good guy but not boyfriend material so therefore Niharika starts dating Akshat. But as time passes by, Akshat starts revealing his true colours. At the same time, Niharika notices a transformation in her bestie Tanmay. Was Tanmay actually the right guy for her? She strives to find an answer and this is her tale.
10. The Girl I Last Loved
This romantic novel tells the story of Akash and Kasam who keep bumping into each other at various points in life. While Akash has always been in love with Kasam, she always seemed out of reach for him. As life moves on, Akash finds out that his ignorance for his love towards Kasam has become a fight with love itself. Things reach a point that he has to decide whether to propose to her or let go of his love forever. What makes this love story interesting is that it follows the journey of Akash's secret love for ten years.