Sonam Kapoor and Anand Ahuja were spotted at the airport. Now we aren't sure if they are off to Cannes or there will be a halt somewhere. Our guess is they are Cannes bound. The actress is scheduled to make her appearance on the red carpet on Monday and Tuesday. It's up to Aishwarya Rai Bachchan to spin her magic on the red carpet on Saturday and Sunday before Sonam decides to make a splash.
The newlyweds look very much in love as they walked hand-in-hand. The actress was seen wearing a floral saree. We don't why she went for a Saree out of all garments at the airport. Sonam is known to wear chic outfits at the airport for her travel, so the saree outing took us a bit by surprise. Also, the mint colors of the saree and the blouse seem underwhelming. We will let it pass because she just got married and we are pretty sure, once on the red carpet, she is going stun us. Check out their pictures right here…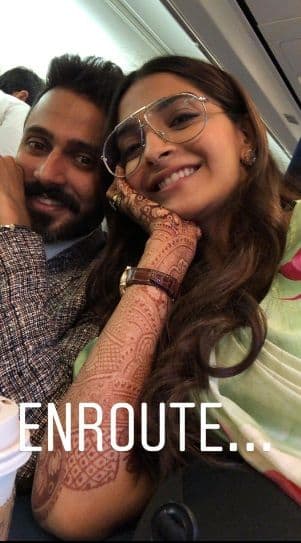 Sonam Kapoor and Anand Ahuja made for a really quirky bride and groom. Their videos from the ceremony went viral where the couple looked so comfortable with each other. All this while, we were wondering if Anand will tag along Sonam to French Riviera.