Just yesterday we had brought you pictures of Mira Rajput looking all pensive after her pizza date with Shahid Kapoor. Say for that matter, even the other day when she had stepped out for lunch, she just walked away without paying much heed to the paparazzi. While we agree one goes through a lot of mood swings during pregnancy and we need to give her that space to deal with it in her own way but then, we are so used to seeing her cheerful that we get quite bothered on days when she doesn't smile. Guess, Mira has finally heard us out because today when she headed out to catch up with her friends for a quick brunch, she ensured to stop and smile! One look at the above picture and you will know what we are trying to say.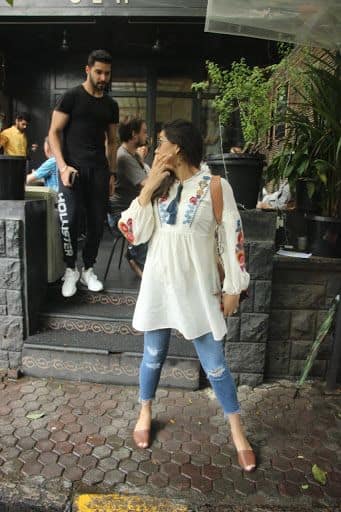 How pretty is Mira looking in that white floral tunic! Mira is someone who always opts for comfort over style and the fact she doesn't follow any stylebook or a certain standard set by Bollywood actresses is something that we really admire about her. Check out her pictures below and tell us if you don't look up to her look. PS: Don't forget to notice her pregnancy glow!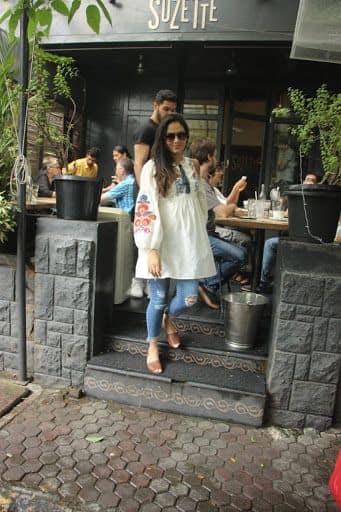 Interestingly, much before announcing her second pregnancy, Mira had mentioned how she would want to explore her career in lifestyle and food but not before having another baby.  "I would love to work, especially in a field that is creatively stimulating, but also allows me time with family. Perhaps something with food, or lifestyle," she said.  But added that she doesn't have a deadline for it because she was "going to have another baby, and then decide."
Mira is due in the month of November. When a fan recently asked her if she is expecting a boy or a girl, she said "Doesn't matter" because in the end, every parent desires for a healthy baby, irrespective of whether it's a boy or a girl, right?