1. Of laughs and gags
Comedy nights in Bangalore featuring some of the wittiest stand-up comics are on a rise, and rightfully so. A blend of date night and comedy night can perhaps do wonders for both parties. A few giggles and time of elation is a given at these events and is devoid of awkward silences and needless conversations that can sometimes arise during wining and dining.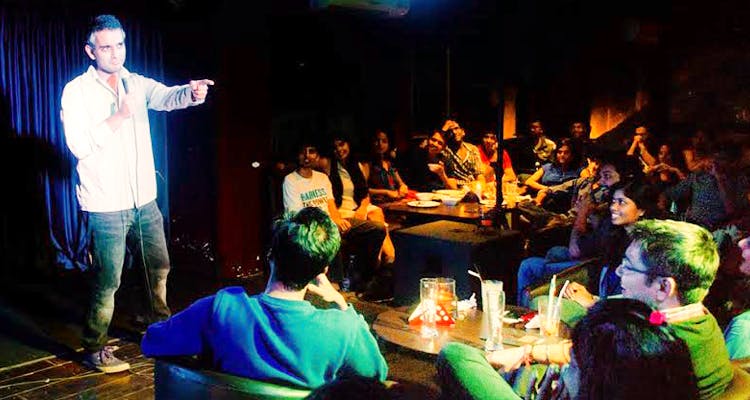 2. Stillwater sailing
Lumbini Gardens and Madiwala Lake in Bangalore are known for the peddle boat services that are on offer. Couples can hire a peddle boat and put their legs to work, cruising on the serene still waters often accompanied by the fluttering waterfowls. Bear in mind, peddling requires that you and your partner are in good fitness, not least to get the boat back to the dock!
3. The couples massage
For those couples who believe in the therapeutic touch of massage, couple spa days may well be a perfect date. In that respect, Bangalore has a good few spa and massage parlors that offer massages for couples—side by side, of course. Couples' spa is often a full-day affair, and at times involves champagne and bathtubs. Perhaps, that should sum it up.
4. Gunning for love
Speaking of unusual, you simply cannot write off shooting ranges for an intrepid date. Buckle up, hold the rifle, and shoot the target alongside your partner in some of the shooting ranges in Bangalore that are securely facilitated. Guns have the pull to grow on you and chances are that you might end up doing it again.
5. Get your hands dirty
Get you and your partner's creative juices flowing by heading to clay and pottery workshops. The pottery making exercises can create an environment for couples to work in unison. Clay pottery has roots with Bangalore's traditions that makes it all the more fascinating to get your hands dirty.
6. The bicycle tryst
Bangaloreans' tête-à-tête with fitness has paved the way for a renewed interest in cycling. Owing to the burgeoning penchant for cycling, many bicycle rental services have popped up over recent years. So, don't worry if you don't own one, rent two suitable bicycles for you and your partner and explore the picturesque suburbs of Bangalore.
7. A walk among the tombstones
A stroll among the tombstones in one of the spookiest cemeteries in Bangalore should be on the list if you and your partner share an affinity towards the subject of horror. Better yet, read the tributes on the gravestones to feel the love in all its sincerity. Kalpalli cemetery in Bangalore comes recommended by many.
8. Visit the vineyards
Although vineyards in Bangalore are fewer in number, they're about as good as any abroad. These places hold wine tours that are equal parts informative and charming. Explore the gastronome in each other, tasting some of the local wines and strolling around the vineyards hand in hand.
9. Saddle up
The quaint horse-drawn carriages at Bangalore Palace Grounds offers regality, even if it's only for a short while. Galloping around the opulent palace with your partner means a date done right. If you're looking for further adventure, head to horse riding centers, saddle up, and go on a ride alongside your partner in the presence of guides who ensure your safety.
10. Tickle the grey cells
NIMHANS Brain Museum is almost certainly not for those who have weak stomachs. If you and your partner can tolerate it, then the brain museum visit is your next perfect date. The museum is home to a plethora of brain specimens, both riveting and out of the ordinary. There is logic in understanding the working of an integral part of our body which has everything to do with the two of you being together.