If you are a regular passenger of Bangalore Metropolitan Transport Corporation (BMTC) buses, you will not be surprised if numbers reveal that some of the crew are struggling with behavioral issues. The number of complaints given to the grievance cell of the corporation seeking disciplinary action against the crew for misbehavior has been on the rise, despite the BMTC offering training to its employees.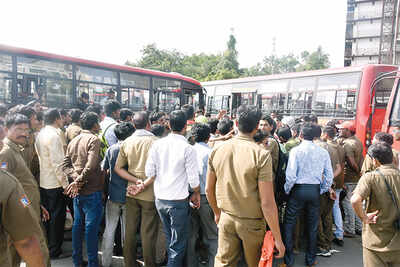 Statistics from the BMTC reveal that 4,118 crew misbehavior cases have been reported in the past two years. A total of 2,783 cases were reported in 2017 and till date this year, 1,335 complaints have been filed through Whatsapp, Facebook and Twitter accounts, letters and calls. Interestingly, all complaints of 2017 have been resolved and 65 cases are pending this year, sources revealed.
A senior official of BMTC told Bangalore Mirror that the number of cases is high because passengers are more aware of action being taken by the corporation against the misbehaving conductors or drivers. "We can't say all complaints are genuine as there are chances that a passenger lodges a complaint against the crew due to personal rivalry," he said.
It was noticed that the cases of misbehavior increase during peak hours. So, the corporation is training drivers and conductors on how to behave with passengers. "Cases of misbehavior have come down to zero in Volvo buses and are on the wane in other buses after the corporation started taking strict action," the official explained.
B Raviraj, a regular BMTC commuter, said he has observed that misbehavior by conductors has gone up in the past few years. "There is a flood of complaints on BMTC's social media accounts. The corporation must create awareness among its employees on how to behave properly with the passengers, otherwise they will lose customers as the Metro is attracting a large number of people," he said.
Srinivas Alavilli of Citizens for Bengaluru, however, said that even the passengers must spare a thought for the working condition of the conductors and drivers of the BMTC buses. "They have really stressful jobs as they have to be on road for eight to 12 hours a day. It is quite natural that they are working under stress as they have to complete their trips and schedules braving heavy traffic jam," he said.
He said there is a need for BMTC bus drivers and conductors to be counseled properly and to improve the mechanism to address grievances. "The crew need to be sensitized about traffic management too. Giving them an opportunity to take vacations and conferring them with awards and other positive reinforcement measures can reduce stress to some extent," he said.