It's been a while since we spoke about Deepika Padukone. We love spotting her at airports because she smiles the brightest at such occasions. We are pretty sure Deepika loves to travel. We love checking out Deepika's picture because she can look chic, classy and heart-stopping sexy, all at the same time.
Say for example this picture shared by her stylist on her Insta story. The way she is looking at you… we won't be surprised if it freezes you. We are smitten by her all over again. Deepika anyway has an awesome beach body but this particular picture has made her look even better. The touch of bling in the proceedings has only made it breathtakingly gorgeous.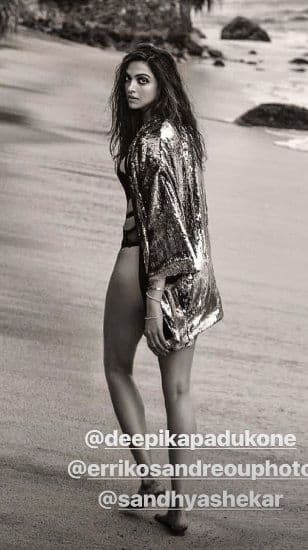 This hot actress is, however, taken! Deepika Padukone is getting married to Ranveer Singh this November. Mumbai Mirror has reported that the lovebirds will get married in Italy like Anushka Sharma-Virat Kohli. They too would like to keep it a secret. The daily had reported that two ceremonies will be held, one in Italy and the other in Bangalore. Deepika has already begun jewelry shopping with her mother which means the news might just be true. The tentative date of their nuptials is said to be November 20.