ATOMIC 7
Atomic 7 is one of the few ice-cream parlors in Bangalore that offer liquid nitrogen ice-creams, a recent trend in India. What's more fascinating is the process of making liquid nitrogen ice-creams, something the staff does in front of the customers. Atomic 7's hazelnut and banana ice-cream should not be missed for the world.
CORNER HOUSE
Corner House is, unarguably, the most successful and trusted ice-cream parlors in Bangalore. It is an old one too. Corner House opened its first store in 1982 and has since spread across the city. Its 'Death By Chocolate' is super famous among locals and if there are any dessert cravings, Corner House is probably where they'll land up.
RICHIE RICH
Richie Rich earned popularity for its experiments with flavor. While most ice-creams parlors weren't going beyond strawberry and chocolate fudge, Richie Rich brought in exotic fruit flavors like kiwi and lychee. They're also known for their generous sprinkle of dry fruits and nuts over ice-creams.
IBACO
Ibaco is a chain of parlors in Bangalore that offers ice-creams and cakes. They are especially popular for their mouthwatering ice-cream cakes in different flavors. Their newest addition to the menu is the ice-cream pizza and they say you don't how good it is until you've had one.
COLD STONE CREAMERY
Cold Stone has been around in Bangalore since 25 years and it is one of the few food brands that makes its items in every store location, serving customers ice-creams and all other things as fresh as they can come. They also offer sorbets and shakes and their cheesecake flavor ice-creams are a must-try.
CREAM STONE
Cream Stone is one of the latest ice-cream boutiques to launch in Bangalore after its success in Hyderabad. Their uniqueness lies in mixing different flavors of ice-cream on a frozen cold stone and beating and twisting them so they end up in a creamy mix of goodness.
Redberry – Handcrafted Italian Ice-cream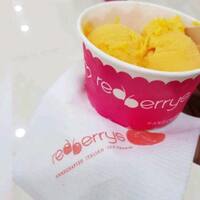 Redberry is the best ice-cream parlor in Bengaluru city to have ice-creams if you like ones that are dairy and sugar-free. Redberry claims their ice-creams are 93% fat-free and since they have only one outlet in the city, they make their ice-creams there and serve it fresh to their customers.
Swensen's
Swensen's is an American brand that first established itself in San Francisco in 1948 and came to India to find that people love ice-creams here. Swensen's offers more than 100 flavors and their super-sized sundaes are especially popular.
ART OF DELIGHT
Art of Delight is a local Bangalore ice-cream and dessert brand that has two outlets in Bengaluru city, one on Residency Road and the other in Koramangala. Art of Delight is famous for their cheesecake flavor ice-creams. Their elaborate sundaes are an Instagrammer's dream.
MÖVENPICK ICE CREAM
Mövenpick brought the Swiss style of ice-cream making to Bangalore city. Whether it's their coffee-infused 'Espresso Croquant' or coconut-based flavors like 'Coconut and Chocolate', Mövenpick's ice-creams are melt-in-the-mouth dessert dishes that you will want to keep coming back to.